Basic CPR/AED Certification Overview
In this CPR/AED Certification Course you will learn:
Adult, Child and Infant CPR techniques, Airway Obstruction and Automated External Defibrillator (AED) guidelines and use procedures.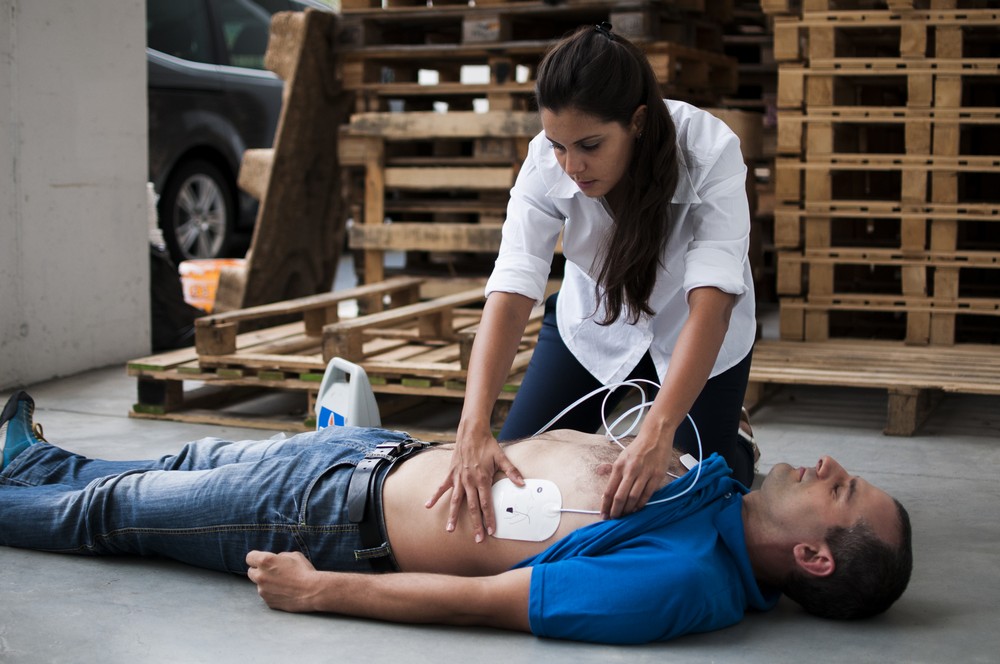 BASIC CPR/AED CERTIFICATION
COURSE SUMMARY
Heart disease is the most common cause of death in the United States. Knowing how and when to respond to a heart emergency is a critical lifesaving skill. Learning the techniques through CPR/First Aid certification will ensure that you are prepared to assess the scene for safety and respond when faced with a heart attack, cardiac arrest, airway obstruction or another emergency waiting for the ambulance and qualified EMS (Emergency Medical Staff) to arrive.
WHAT'S IN THE COURSE?
BASIC CPR
CPR Basics – Including an overview of scene and victim assessment, how and when to determine if care is needed, when to call EMS and good Samaritan laws.
Adult CPR – CPR is most often administered to adult victims of cardiac arrest, heart attack, or stroke.
This training module will walk you through the CPR cycle, including the C-A-B (compressions, airway and breath) model for proper delivery of CPR to adults.
Child CPR – Administering CPR correctly to children is important to avoid injury and to ensure that life saving techniques are delivered properly until EMS arrives.
This training module will walk you through the CPR cycle, including the C-A-B (compressions, airway and breath) model for proper delivery of CPR to children.
Infant CPR – Infants are the most vulnerable and can easily be injured if CPR is not delivered correctly.
This training module will walk you through the CPR cycle, including the C-A-B (compressions, airway and breath) model for proper delivery of CPR to infants.
Airway Obstruction Identification and Remedy – Includes identification and treatment for choking victims. Including the Heimlich Maneuver for Adults, Children and infants as well as pregnant and large victims, the recovery position and when to call for help.
AUTOMATED EXTERNAL DEFIBRILLATOR (AED)
AED Basics – Covers general AED topics such as information about the human heart, cardiovascular disease, the chain of survival, how to identify and differentiate a heart attack and cardiac arrest event and treat accordingly.
AED Guidelines – Covers the definition, identification, purpose and general information about AED devices…what they do and how they do it.
AED Use – Includes areas such as when to retrieve and use the device, pad placement, differences in adult, child and infant methods, how and when to deliver a shock and administer simultaneous CPR.
CPR/AED CERTIFICATION
Taking and passing the CPR/AED certification quiz is critical in determining which skills you have learned and what procedures you need to review. Each course includes an embedded quiz that can be completed as you advance through the course training modules. The final quiz consists of multiple-choice questions designed to assess key aspects of correctly delivering CPR. All incorrect answers can be reviewed and corrected before purchasing your certification. Take the quiz as many times as you like and pay only after you are satisfied with your results.
CPR/AED RECERTIFICATION
Certifications provided by NewLife CPR expire after two years of completion, in compliance with AHA guidelines. Each course can be used as a refresher course and you should be able to complete your recertification with ease, while ensuring you are up to date on your knowledge and skills. Your user dashboard will alert you to expiration dates and allow you to review and complete the quiz for recertification in less than 30 minutes.
CPR/AED CERTIFICATION VALIDITY
There are many options available for completing CPR/AED certification. NewLife CPR offers quick, easy certification for everyone. Our students enjoy the same benefits as those who complete in-person instruction from the American Heart Association. NewLife CPR/AED certification courses are written and endorsed by AHA trained instructors.
NewLife CPR OVERVIEW
Busy professionals, laypersons, healthcare providers and others are choosing New Life's online CPR/AED certification training as a more affordable and convenient option for achieving certification. NewLife CPR provides course options that can be completed quickly, for a fraction of the cost, when compared to in-person courses. Our online CPR/AED certification training course allows you to complete lessons virtually, take the CPR quiz and receive your certification immediately.
NewLife CPR provides convenient, efficient virtual CPR/AED certification training courses written and endorsed by AHA trained instructors. Each course is delivered in multimedia format. Completing your CPR/AED certification online allows you to receive training at your convenience. You can start, pause and rewind videos, download the free training guide and return to review courses for free at any time. Our embedded assessments allow you to complete the quiz as you advance through the content. Pay only after you pass the quiz and you will immediately receive a free temporary wallet card and certificate by email. Hand signed materials are mailed within two business days.
CPR/First Aid certification TODAY!